Keywords: life story, journey, Banggi island, chapter 1

I'm quite tied up with my work and tiredness these few days that I'm so late to share my short journey to Banggi Island. I split my story into a few chapters. So I'm going to start with the first one...



Chapter 1: The Departure



Actually this journey was not even planned, I just nod on agreement when they asked me to join them to the work site in Banggi. Throw in some assignments for me to do there and I'm Game On. This is my second journey there, and the first to be chronicled in my blog.


06/02/2010, 05:20AM



Got up early, to prepare my things for the journey, I asked my aunt to drive from home to

Inanam

where the meeting point took place for the journey. Left home at 6:00AM, arrived early because its the Saturdays. Waited at the designated pick up point, I called my friend/co-worker to confirm where they are.




"We are on our way... "



Inanam, took some pictures while waiting
Morning turns brighter but there's no sign of them yet, I was getting a bit frustrated; but I keep on waiting in the hot morning sun while chewing on Dentyne chewing gum that I brought earlier. I waited for two hours for them to pick me up; managed to finish a pack of Dentyne while waiting. There are four of us including our boss on the journey, there were supposed to be one more staff to be picked up but he was ordered to be at the office for other works to be done.
08:46AM
Stopped by a restaurant by the roadside in
Tuaran
for breakfast. I have this special Nasi Lemak and Kopi C ping(cold) for breakfast...
yum yum~ tasty~ om nom nom nom
After breakfast, we continue on the journey... I was enjoying the view, there are so many scenery that is amazing because this is my first journey to Banggi on daylight. My last journey there started at 2:00AM and only for one day... straight.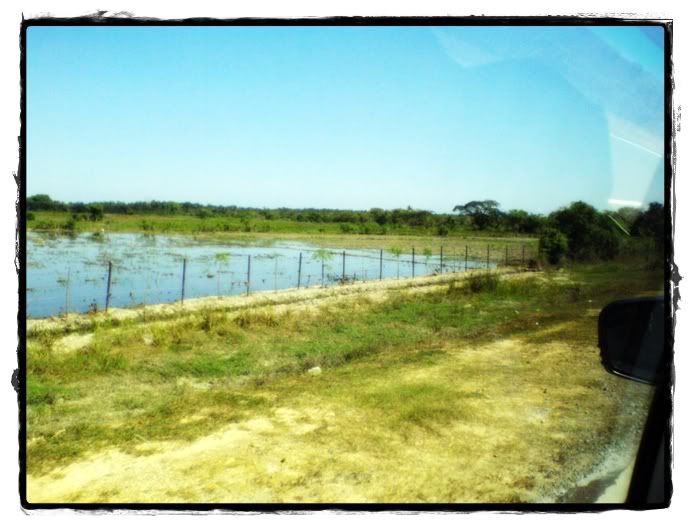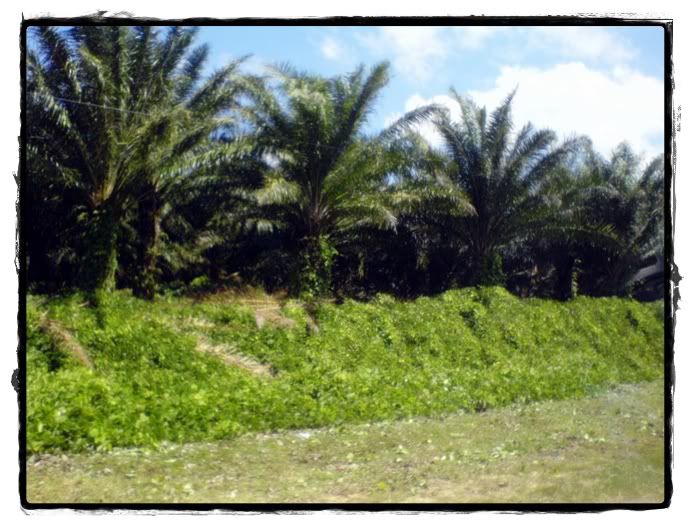 so many palm oil trees...
Well, look at those palm oil plantation.. they look deserted and unattended. My friend(who is driving) said that it took 3 years to wield its crops, the weed infestation is a sign that the company handling it has no enough budget to maintain it. Talk about high maintenance on a very vast area of plantation.
Our ride, Mitsubishi Triton fell into a bit of complication; so the driver went out to check the problem.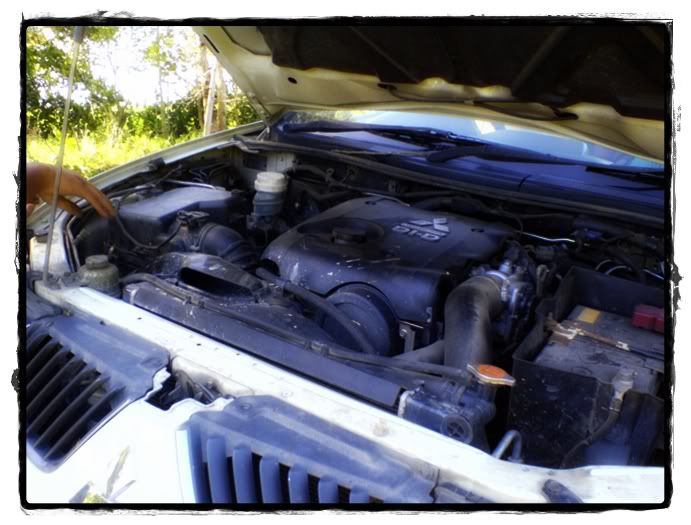 "Air filter is loose, but it should be OK"
That was what he said, after that slight check-up, we continue on. While other is taking a nap, I took a snap of scenery along the long journey. One particular thing that is funny;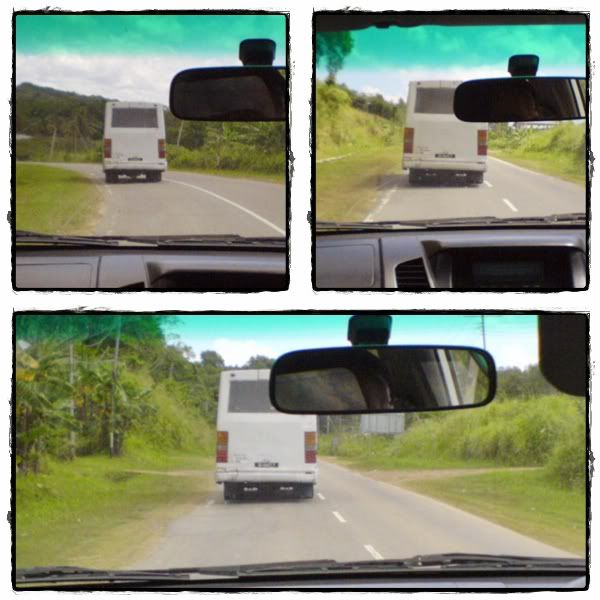 Sideway Bus!~
Which I remember taking this photo on
Kota Marudu
and
Kudat
road. Why funny? you see this bus goes on a high speed, but tend to go sideways; so the bus slows down(the brake light is also faulty) to steer into the right lane before speeding up again.
Kudat Jetty, so windy~
11:41 AM
Arrived at Kudat Jetty
Water wave is pretty wild, wonder how it will be in the open seas...
While my friend go "shopping" for food supply for workers as well as oil supply, me and my boss go to the nearest restaurant to fill up before the journey. I was reluctant to eat at first, but finally resolved to eat Nasi Ayam which is quick to be served. While my boss eat his Tom Yam he ordered earlier, he noticed a peculiar bottle of drink inside the beverage refrigerator, just beside our table.
"Minta itu air hitam satu" he asked.
"hijau itu"the waiter replied while taking one out of the fridge.
"Wheat grass...apa itu wheat grass?"he said holding the bottle then shared half of it to me in a glass.
that wheat grass drink.
"Pandan?"I replied, but that answer was wrong.. pandan was one of the ingredients, but its not wheat grass. LOL
Right after mid day, all supplies are loaded into the designated ship and all passengers on board.
"Next stop, Banggi Island"
"LOL, that bus is moving sideways!"
to be continued, Chapter 2: The Endless Sea